Welcome to

Frédéric's Homepage

News


May 2010 - libGSL and GNUstep base doc. updated for download

Local navigation :
A few links away :

More about me (remember : it's a HomePage)

I originate from the Geneva region, and lived some times in a part of Germany called Franconia. That's - added to some very curious culinary habits, - the most rebel part of the well-known Bavaria - here and today in Switzerland I work in the domain of healthcare in the big German engineering company called Siemens, which you probably know, that's your dishwasher, you coffee machine, your train, hydroplant and so much more. Now I use to travel a lot for not so funny purposes, but in my free time I used to visit great countries in the world (if You read French, I report here some days of a journey to Capo Verde). I am interested in geopolitical issues concerning aborigenal folks of the world, in particular those from Asia and Africa. I am member of two organisations, Action Kharikhola : a joint technical project with villagers of a small Nepalese village called Kharikhola, and another social and scientific initiative in the Sahara desert Iman Tamedourt (what means "a breath of nomad life" in Tamasheq, the tuareg writing). I like reading on civilizations and social interactions between people of different kinds. I don't like referring to "nations", "my country". We are in a stream of "like everybody, be like no other" - I am glad there are still non-friends and huge differences in cultures, so that there's still a lot to learn outside, and I really enjoy trying decoding why I will never be friend with everybody on earth.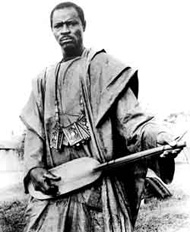 Still within Sahara, I am fascinated by the music of Mali, and the Griot's music, a beautiful hypnotic traditional Black African music which seems to be at the roots of all others... among other singers the most outstanding and father of all is probably Ali Farka Touré, a Griot from Timbuktu who spreads harvest Songs along the Sahelian landscapes. However the current bird of Mali is a woman, Oumou Sangare, and the couple really makes my hi-fi happy, there is Rokia TraorŽ to not forget, or Karkar, the afroblues legend!. Now I start understanding Jazz, and especially the be-bop, modal era - I am not a good one yet, but I use a fantastic book to make dissonant music, and enjoy it!

I was several times in India/Nepal. I have shared beautiful moments in the Himalayas, those beautiful and hostile ranges in central Asia. From them I essentially appreciate the writings, books and poetry, which are among the only books I enjoy to read. I keep in touch with many of my friends over there, they had tough times during the civil war - If they never seem to need to recover, I never forget life is a daily struggle for some of them.
Having met Indigenous People during these journeys, musical or physical, I support the fight for their rights at the united nations, and hope these cultures will survive in our crazy world. Four years ago we founded with a writer of my friends the portal for Indigenous People in French. Jean-Patrick dedicates lots of energy to support some "forgotten" folks in southern America, those you know under the name "Jivaro" but few people know under their correct name "SHUAR". He has founded Arutam which means... I let you find by yourself on their pages! Now he extended his support to other People. Our portal project attempts to group some of the French speaking websites about Aborigenal cultures and people - because we thought their visibility was reduced in the internet Jungle.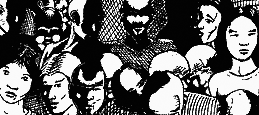 Otherwise, I like swimming, my computer and the human wonder who shares my life. I take some minutes a week to draw, play music, and organize the next new thing.

By the way, my home town is Mulhouse, in eastern France ... where I have never been. I think I like moving, as I grew up in Morocco (Marrakesh) and in the Geneva region (French territory rounding Geneva) in a small city called Saint-Genis. I later went to Lyon and then Nancy in eastern France, in 2001 to Germany where I got an European biomedical and clinical engineering degree, then back to Toulouse, south-west of France to obtain my Master in Medical Imaging then to Geneva. I kept on my way to more tropical latitudes and now I enjoy the sun of Germany two long months a year, in Erlangen, the flatest and squarest city in the world, which has been built on sands by visionary protestant French ancestors who knew once, there would be lots of enthousiast bike lovers not taking care of eventual priorities in these large, flat roads. I keep a very nice address book of all the fantastic people I met, and I wish they'll recognize me in these lines.

Serious things about computing (Linux/Solaris systems)

Yes I like to explore the UNIX internals, by means of a linux Slackware and an linux ubuntu system, am competent in networking, system/scientific/3D programming and all these stuff which make you happy when you switch your computed on. I thought I was going to become a very rich person, and I am now prisonner of a Mac Pro.
Slackware repository
I used to maintain a repository of Slackware packages, but linuxpackages has been created and is in far better hands. However some of them still survive here for those interested.
Technical memos
... Solaris
Ever wanted to run a subversion server on Solaris 10? Some post-install notes for Solaris 10 should help, see yet another technical reference I wrote for myself and for the interested ones (outdated). I did not update these pages and now use a SSH over apache on OS X following this superb article
... Linux
For those having a Toshiba Satellite 2410S, and myself I store my configuration data here, those having a Toshiba Satellite P20 could dig this folder, and those having a Toshiba Satellite L20-120 should check there

(and I am not sponsored by Toshiba, these are just excellent robust machines for a reasonable price...).
Yes, and now that I own an HP Pavilion dv6000 - which costs as much as e.g. the Toshiba L20-120, I confirm the quality of the Toshiba systems : what a mess that HP, sorry, but I do not really like a system that comes without one CD or DVD for reinstalling the OS. Spare work at HP developing applications for people to create their own DVD sets. If HP people think that sparing the cost of two DVD's (max. 2€) motivate people to buy a system, I think I should review my Marketing course. I mean, this is my first and last HP for that reason, and because it is full of Norton Security which - among others, does not let my system shut down. After 4-5 force reboot because frozen, my hard disk was not recognized anymore - guys, go to McAfee.
Encryption public key
Use the following public RSA key for my SSH accesses (updated 14.02.2012).
And so on...
What else? oh.. when graphical desktops and X-window managers were just at their beginnings for GNU Linux, the well-known Gnome and Kd were slow and buggy. I was a user of WindowMaker for which I proposed some themes to download. Here are my WindowMaker themes pages... I still use it when I have to quickly and efficiently work, as its design is for me THE clever design for an efficient X WM.